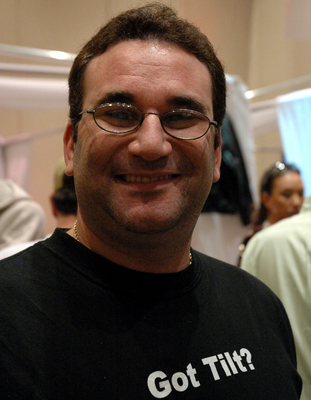 Mike Matusow, more commonly referred to as Mike The Mouth was born in LA and is notorious for his trash talking while at the tables not to mention his sometimes out of control temper which is often triggered by trivial issues.This is one of the many reasons he has become one of the more talked about players and one of the love em or hate em pros.
Matusow first learned poker during the later 80's but it wasn't until almost a decade later that he began to take the game seriously entering into his first major tournament.
He dedicates much of his success to being a poker dealer and paying attention to the game from the dealer perspective.
Although Mike catches a lot of slack for his mouth he has had a successful career thus far including three WSOP bracelets and the winner of the 2005 WSOP Tournament of Champions. His third bracelet was won during the 2008 WSOP $5000 No Limit 2-7 Draw with rebuys placing a solid third place. He has also placed 30th in the Main Event.
Mike Matusow is an endorsed pro at Full Tilt Poker and although it has been commented that he has a gambling problem, the player is often found at the high stakes games. If you thought his trash talking was limited to just the cash games and live tournaments, you will find the same personality online.
Total live tournament winnings exceed $6,800,000