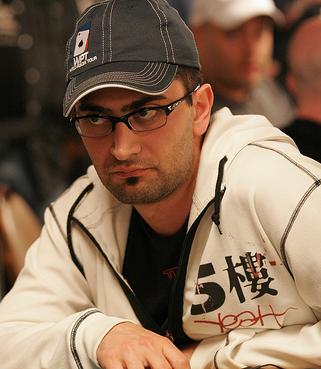 Antonio Esfandiari "The Magician" was born in Iran to the name of Amir Esfandiari and moved to California during the mid 80's. It wasn't until he turned 19 that he changed his name legally to Antonio when he chose to make a career out of being a magician. During his college years his roommate was another pro player, Phil Laak and at the time both men were inseparable, playing in most games together. Esfandiari is known for his abilities to perform impressive chip tricks while playing at the tables.
During 2004 Esfandiari admits to making close to $1.5 million while playing at the Commerce Casino. That same year he earned his first bracelet in the 2004 WSOP Pot Limit Texas Holdem event. He has made twice in the PokerStars Superstars Invitational Tournament in addition to four seasons of GSN's High Stakes Poker.
When asked what his favourite hand is he admits to love playing 79, which he refers to as the "Persian Carpet Ride". An odd hand for a pro player to like but during his early years playing he won three huge pots back to back with those two cards and will play them ever since.
Total live tournament winnings exceed $3,000,000
Jun-2008 $ 10,000 World Championship Heads Up No Limit Hold'em – WSOP - 53rd $ 14,438
May 2008 No Limit Hold'em 2008 Coast to Coast Poker Championship, 19th C$ 1,810
Apr-2008 € 10,000 No Limit Hold'em - Main Event EPT Grand Final, Monte Carlo 8th € 168,000
Mar-2008 $ 20,000 Week 7 - "Jam Up Week" Poker After Dark III, 2nd
Nov-2007 $ 550 No Limit Hold'em IP Poker Classic 2007 - 1st $ 26,488
21-Jun-2007 $ 1,500 No Limit Hold'em – WSOP - 62nd $ 9,708