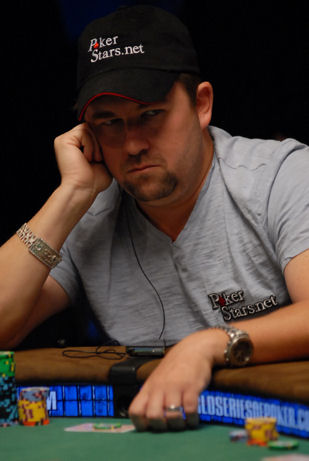 Chris Moneymaker became a house hold name back in 2003 when he won the World Series of Poker main event. What makes this player different from the majority of those who win these tournaments is he won his seat by playing an online satellite through PokerStars.com. While other players who enter into the WSOP have been playing the game professionally, Chris was a real player who entered into a $39 satellite and through this satellite claimed his fame and a $2.5 million dollar prize pool.
Although his most recent wins have been few and far between he did place second in the 2004 Shooting Stars event for $200,000 and placing 6th in the 2008 WSOP Event #5, and 5th in Event 16 taking home a combined total of just over $160,000 cash.
Ironically his real name is Moneymaker chosen by his ancestors who made silver and gold back in Germany. He is now a world class player and endorsed by PokerStars where he can be found online frequently in the high stakes games or in their weekly main events scheduled each Sunday.
Total live tournament winnings exceed $2,800,000