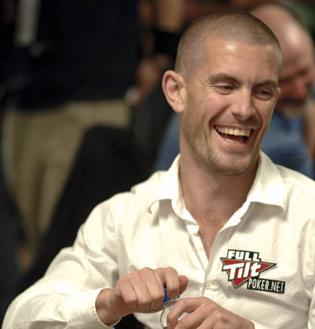 Gus Hansen, also referred to as the Great Dane, is one of the top professional high stakes players both online and live. Born in Copenhagen Denmark his career first started as a pro backgammon player and tennis player. He eventually made his way to California where he began playing poker at the Ocean View Card Room in Santa Cruz while attending UC as an exchange student
Gus's is notorious for his playing style which includes strong aggressive plays, and raising with any two cards. This was seen during the PokerStars Invitational Tournament where Gus basically went all in while playing in the dark almost every hand. He took down that tournament as well as a grand prize of $400,000.
He has set a record as the only player to date who has managed to win three World Poker Tour open tournaments, and a second place finish during the 2008 WPT Championship taking home over $1.7 Million.
By far one of his most memorable moments was during an episode of High Stakes Poker where he and Daniel Negreanu played heads-up in the 5th biggest pot during the shows airing. During the hand Daniel had a full house 6's over 5's while Gus held quad 5's taking down a pot of $575,700. Other titles including the 2007 Aussie Millions main event championship,
Ttotal live tournament winnings exceed $7,200,000.